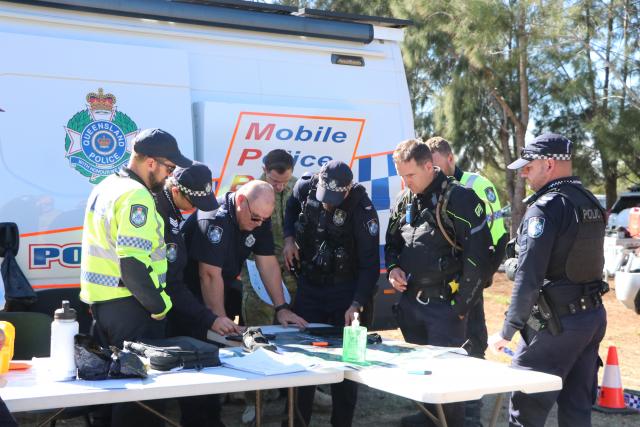 By Julian Lehnert and Daniel Pelcl, South Burnett Today
Hundreds of members of the Proston and wider South Burnett communities joined hands this month to look for missing man Luke Fergusson, who was last seen at his Proston Abbeywood Road home on the evening of Friday, 9 June.
For over a week, search parties assembled daily at the Fergusson home on 307 Proston Abbeywood Road to set out into the surrounding bushland, combing the countryside on foot and horseback, atop motorbikes and all-terrain vehicles, as well as in cars.
Volunteers included members of the South Burnett State Emergency Services, a group of Queensland Police Officers, over 40 soldiers of the Australian Defence Force, and dozens of dedicated members of community groups like the Proston QCWA and Show Society.
Queensland Police Service District Inspector Scott Stahlhut, who was stationed at the search's hub to direct the groups looking for Luke, explained that his staff were employing a variety of methods to cover the most ground and varied types of terrain as possible.
Inspector Stahlhut said police first flew an air asset over the immediate area the night Luke was reported missing, then immediately dispatched officers to the location the following morning.
Police assets involved in the search included members of the Stock Squad from southern Queensland, 'high patrol' personnel on motorcycles trained for off-road travel, and a dive squad used to plot water courses and dams.
Officers also employed the help of a Challenger jet aircraft from Victoria which used thermal imaging hardware, a highly-manoeuvrable Robinson R22 light helicopter to view below treelines at dense sections of bushland, and RACQ LifeFlight helicopters Rescue 522 from Bundaberg and 511 from the Sunshine Coast, each of which had a pilot, navigator and medical team on board.
However, the search efforts were not limited to police alone, as State Emergency Services volunteers also flocked to Proston to lend a hand.
According to Scott Barry, the Local Controller for South Burnett's SES, well over 100 workers from as far as Biggenden and Gayndah in the North Burnett, as well as the Sunshine Coast and Gympie regions joined in on the search.
Mr Barry said SES crews used ATVs and patrolled on foot.
The SES Controller, who joined the search the day it officially began and who remained at the search headquarters to liaise with police, said that his team fielded an average of 20 volunteers each day.
"The guys have just worked their guts out, and I am so proud of them," Mr Barry said.
On Friday, 16 June, the Australian Defence Force arrived at Proston, which had scrambled around 40 personnel, mainly members of the 11th Brigade from Brisbane, to aid in the search.
According to Major Stephen Smit of the 25th/49th Battalion, Royal Queensland Regiment, the Army received an official request for aid on Wednesday, 14 June, arriving the following afternoon to begin searching on Friday.
Joining the around 40 Army members were 14 soldiers of the Australian Army Aviation Training Centre at Oakey, and an Unmanned Aerial Vehicle team from the 5/11th Battery, Royal Australian Artillery.
ADF personnel used drones, equipped with cameras and thermal imaging components to perform sweeps of the search areas, using estimates of Luke's latest movements as determined by a collaborative effort between police, SES, and soldiers.
To keep the scores of volunteers and servicemembers fed and alert, a number of Proston area locals came together to provide free food and refreshments to those involved in the search.
'Mon-Dee Coffee 2 Go' van owners Pat and Alan Eagleson were on site, as was a contingent of members of the Queensland Country Womens' Association's Proston branch.
Branch president Val Klein said that her group began setting up catering at the search headquarters the moment they heard of the news Luke went missing, and that for three days, CWA members brought and handed out their own food and drink to the searchers – until local shops ran dry.
Bolstered by a wave of donations from businesses like Kingaroy's Endeavour Foundation branch and Swickers, as well as those of Burnett locals looking to help, the CWA's members were soon afterwards able to continue to offer hot breakfasts, lunches and dinners to all volunteers.
Ms Klein, who lives 'next door' to the Fergussons, said she and her group – as well as members of community organisations like the Proston Show Society – would continue to lend aid to the volunteers for as long as there were still searchers on the ground.
"We have soldiered on, and we'll do it 'til the end – whatever happens," she said.
"We've got to support Luke's mother and family – that's what we do. My heart goes out to them," Ms Klein added.
Luke's mother, Sue Bedey, thanked all those involved in the search for their effort.
"I'd like to thank everyone who has helped in the search for Luke," she said on Saturday, 17 June.
"The police have thrown everything at it, the Army have thrown everything at it. The locals, who are absolutely the most amazing people, have done everything they can possibly do.
"I'd really like everyone to make sure that they are watching the roads. If you see someone, if you hear someone talking about picking up someone – it doesn't matter how small, how insignificant, please report it."
Queensland Police Service District Inspector Scott Stahlhut has also urged nearby residents and anyone travelling through the Proston area to keep an eye out for Luke.
"What we want people to do now is to not lose focus of the search area here, but still to look further afield," Inspector Stahlhut explained.
"If anyone sights Luke, the first thing to do is call 000 and keep an eye on him. He may not come toward people and might actually move away," Insp Stahlhut explained.