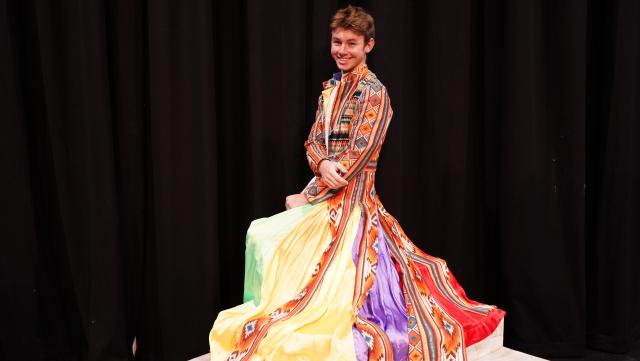 By Trish Bowman
St Brendan's College is set to come alive with a blaze of colour with this year's
upcoming in-house production of 'Joseph and the Amazing Technicolour Dreamcoat' which promises to be a night to remember.
Marketing and Events Coordinator Chantelle Ludcke said what makes this production extra special is that it's been organised entirely in-house, with St Brendan's College talented staff members choreographing and building the set.
"This year, we're proud to welcome female students from other schools, including Glenmore State School, Rockhampton Grammar School, St Ursula's College, Yeppoon Sacred Heart, Byfield State School, St Benedict's and Farnborough State School students who will be joining us on stage to showcase their incredible talent," Ms Ludcke said.
"To add to the magic, we'll be accompanied by a youth choir, which is sure to make the show a truly unforgettable experience."
The much-loved family musical, the stage adaptation of Joseph and the Amazing Technicolor Dreamcoat was initially released as a concept album in 1969.
Its iconic songs, such as Any Dream Will Do, Close Every Door to Me, Jacob and Sons, There's One More Angel in Heaven and Go Go Go Joseph, have since become classics in both pop and musical theatre.
Told entirely through song and with the help of the narrator, the musical follows the story of Joseph, Jacob's favourite son and his eleven brothers.
After being sold into slavery by his siblings, Joseph earns favour with Egyptian noble Potiphar but is later imprisoned after rebuffing Potiphar's wife.
While incarcerated, Joseph discovers his talent for interpreting dreams and eventually catches the attention of the mighty but troubled showman, the Pharaoh.
As Joseph works to solve Egypt's famine, he rises to become the Pharaoh's right-hand man and ultimately reunites with his family.
The production's music is composed by Andrew Lloyd Webber and features lyrics by Tim Rice.
Joseph and the Amazing Technicolor Dreamcoat is a team effort with Br Steve Grundy and Head of Music, Mr Jack Ingram Directing with Mrs Gail Purdie.
They all worked their first musical at the college in 1999, the choreography is also by Gail Purdie, Alyssa Priddle and Br Steve Grundy.
The creative team also includes Tracey Deasy – Costume Designer, Aaron Jorgensen- Sound and Lighting Designer, Jarrod Mabo – Backstage Manager.
The Orchestra comprises of parents, friends and students of St Brendan's College.
Head of Music Jack Ingram said this year's musical is shaping up to be a fantastic evening.
"Many hours of hard work have gone into the production, and the venue itself provides the perfect backdrop for an unforgettable evening," Mr Ingram said.
"Whether you're a fan of musical theatre or simply looking for a fun night out, this is an event you won't want to miss.
"We encourage you to bring your family and friends and join us for an evening of music, dance and entertainment that you won't forget."
Joseph and the Amazing Technicolour Dreamcoat
SHOWS
Friday 14 July at 7pm
Saturday 15 July at 1.30pm
Friday 21 July at 7pm
Saturday 22 July at 5.30pm
PRICE
$20 adult, $10 High School Students, $5 Primary School Students and $50 family pass.
BOOKINGS
To book your tickets go to trybooking.com/CILFM or call 4939 9300.