"I'd like another battle!": Thursday talking points at the TT Circuit Assen
Hear from Bagnaia, Martin, Bezzecchi, Zarco, Miller and Marc Marquez
Thursday, 22 June 2023
Do not adjust your set! Yes, we're back in action again for the third stop of the triple header, and this time it's the Motul TT Assen at the legendary Cathedral. Two Press Conferences kicked us off, with plenty to talk about… or maybe you agree much of it is all "clickbait and bullshit". We'll let Jack Miller (Red Bull KTM Factory Racing) elaborate!
The first comprised Francesco Bagnaia (Ducati Lenovo Team), Jorge Martin (Prima Pramac Racing) and Marco Bezzecchi (Mooney VR46 Racing Team), before the second saw Johann Zarco (Prima Pramac Racing) joined by Miller and Marc Marquez (Repsol Honda Team).
Here are some key quotes!
How important is this weekend?
FRANCESCO BAGNAIA: "Like always, starting this weekend for me is so special. It's one of my favourite race weekends and I love this layout so for me it's always great. I'm looking forward to riding tomorrow and let's see. I'm quite sure that our bike suits this track well. Last year we worked so perfectly to arrive at the race prepared, and we will try to do the same this year. Our bike looks great on these kinds of tracks, so let's see."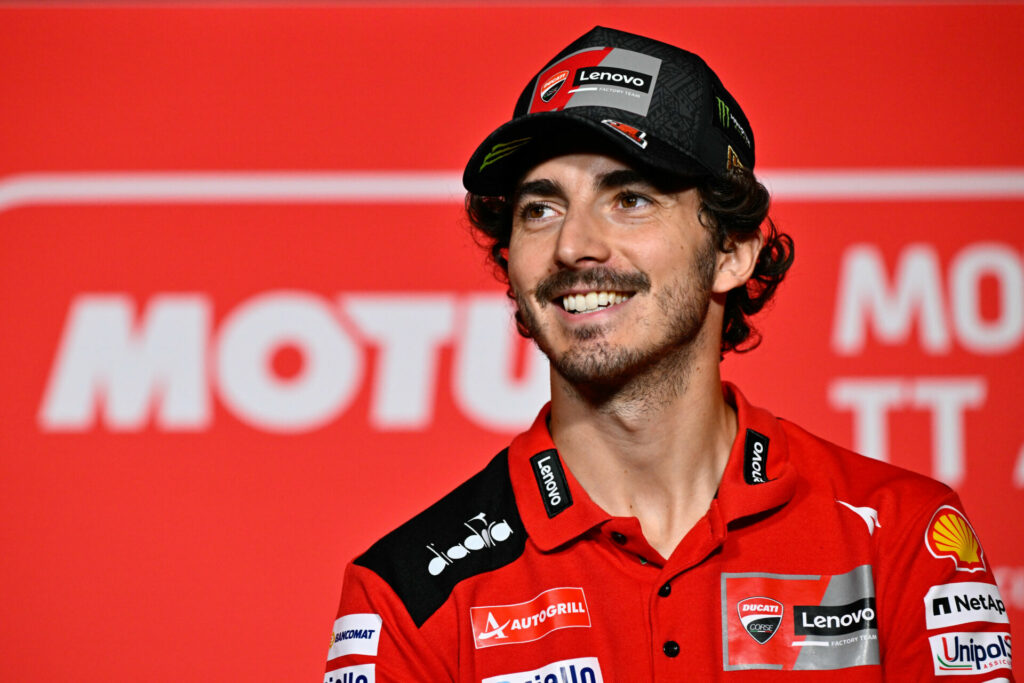 What is it about Assen that suits your style?
"When I arrived here in the World Championship in Moto3, I always said I had great respect for this track.The first time I won was here and it was incredible with Mahindra. Then it Moto2 it was the perfect weekend because I led in all the sessions and during the race. And then last year was great, for sure two contenders were out of the race, but we managed to be competitive and we managed to be on pole position and for sure it will be very important to try to repeat the same for this year to start the summer break in a good mood. It won't be easy, but our ambition is to be as competitive as last year."
Do you expect to have a close battle this weekend?
"I think they are both strong. They were both so competitive at this track last year. Marco was very close to victory with me, and Jorge until the end of the race was with us. So for sure, they are so competitive, they are on the list to be contenders for this weekend. I would like to have another battle like in Sachsenring, but with different results."
Is the win a weight off your shoulders?
JORGE MARTIN: "For sure I really enjoyed these few days after a victory, it's a pity we have a race straight away because I didn't celebrate a lot but you know I couldn't, as soon as you go into the next week you already think about Assen. I'm focused on this weekend, I want to finish in a good way before summer so yeah hopefully we can battle for the podium again, be as consistent as we have in the last four races so yeah let's see."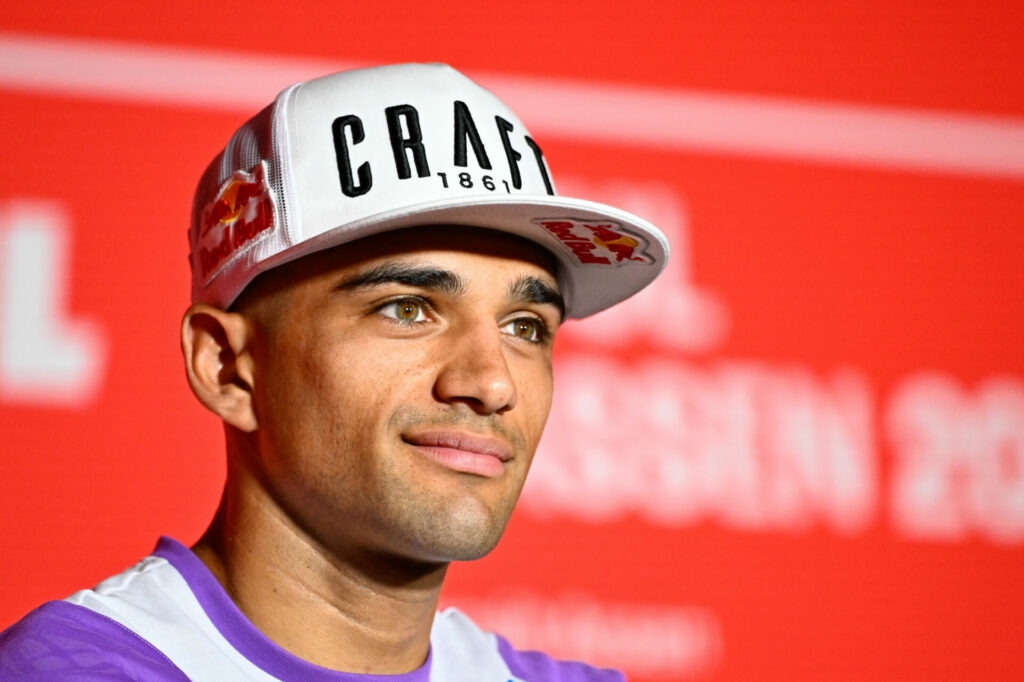 Did you get the victory fairing you asked for?
"Not yet not yet, I asked Ducati already to have something for two years in a row and I have nothing from the bike. For sure Pecco has something, I don't know why it's difficult. I just want to put it at home, I'm not going to give it to any factory. Gino told me he would give me it so let's see if he can manage it."
Will Pecco be harder to beat here than in Germany?
"I know this is one of his favourites. I was just remembering when we were staying together in the motorhome when he won his first race I remember I asked him, I couldn't race because I was injured, and he told me 'today I will win'. I know it's one of his favourites, last season he won, I like this track, last season I was competitive. When it started to rain I struggled a lot to have confidence so I lost contact with them but I feel strong and I think it's a good moment to arrive."
On Paolo Ciabatti's quotes saying he'll be on the Pramac in 2024…
"Yeah I'm happy where I am, I don't see a reason to change. I have a factory bike, an amazing team that is pushing for me and I think 2024 will be the same."
On Assen:
MARCO BEZZECCHI: "It is a place that I love for sure. When I arrived here yesterday, in my mind immediately there were beautiful memories about my first podium in MotoGP. Of course, it was a big emotion, but I know now I need to be more focus on the race of this weekend. I really like the track, it suits my riding style well, also it is quiet fun and beautiful!"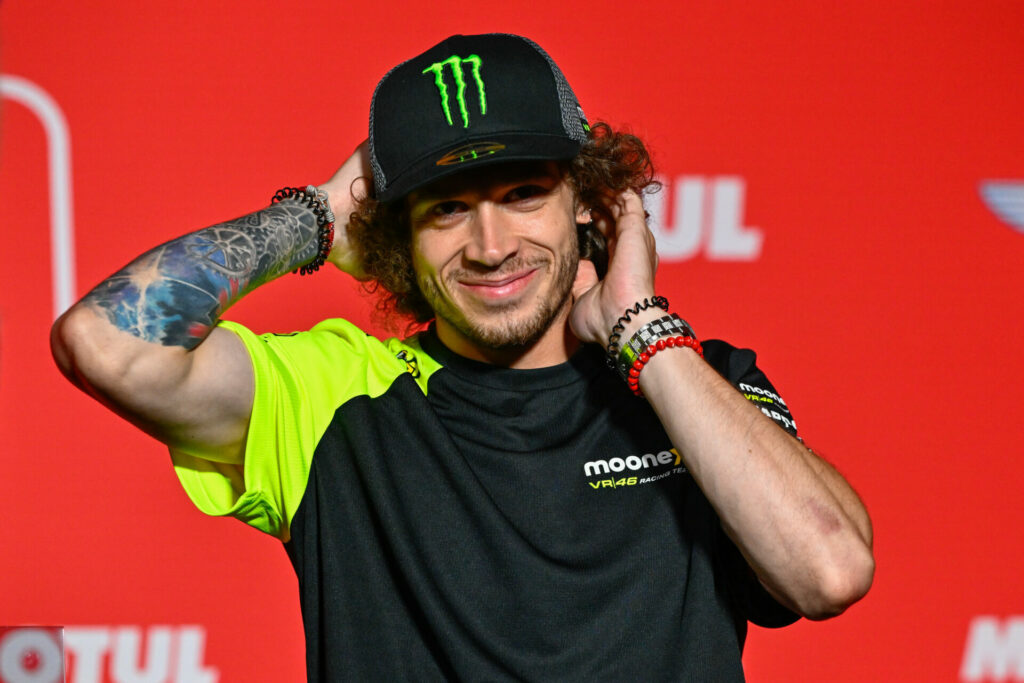 Confidence from that first podium in Assen?
"It was a big push in confidence for me because I was struggling all the weekend and then in QP I was able to go fast but my pace was not really good honestly. I tried the soft in the race without knowing whether it was possible to do well or not, and then I rode well and finished on the podium. It was something then that came into my mind that I said 'yeah, I can do it!' So, yeah, it is quite special but then you have to keep working and I'll try do this and stay focused."
On those Mugello & Sachsenring points finishes?
"We saw during the first part of the Championship that with the Sprint, everything can change so quickly. Unfortunately, in Mugello, I had a good Sprint, but I had problems on Sunday and I wasn't fast enough to fight for the front positions. At the Sachsenring, I struggled all weekend but for the race I found something better that gave me the possibility to be faster. But as soon as you lose something with this format and the level we have, you are lost, so it is important to start in a good way and keep the high level and be consistent, it's not too easy. My team though are giving me a lot of confidence and giving a good effort so I'm very happy for this."
Riding better than ever?
JOHANN ZARCO: "Clearly, I think really the best moment where I could feel very good on the bike, and ride, everything naturally, was in 2015 for the first year that I was world champion. Now in MotoGP it's always more and more difficult, but this year things are getting under control and I can enjoy more and get more tastes of the podium. It was so good to get three in a row. Le Mans, Mugello and Sachsenring. Three different tracks. So yeah, it's a good feeling. And overall with this feeling, things are coming better every time. So I really wiish and hope for even better for the next races. This is the target."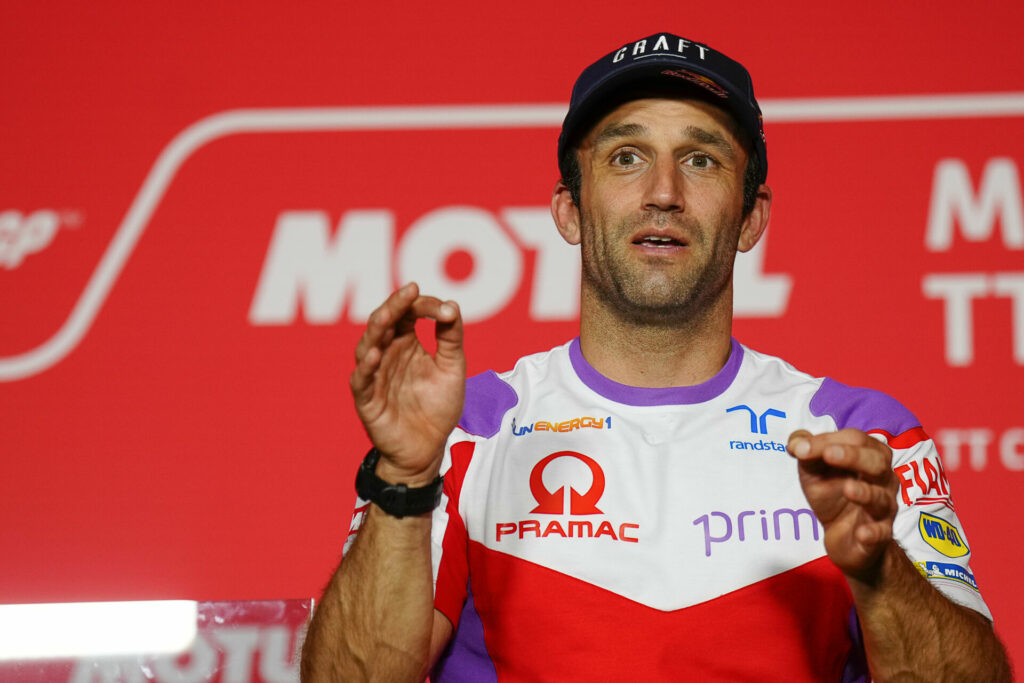 Atmosphere in the garage:
"The teammate is the first guy that you can look at. And watching I'm watching Jorge, but Jorge is also watching me. Not just for the for the setup, but also to do the results. vThe areas where he's super fast, I'm trying to be fast and usually I'm quite consistent and now also he's trying to be quite consistent. So it's creating something that we didn't expect. We're leading the classification of the teams standings, and that would be very nice to keep it to the end of the year, because I think that would be it would be historical that a satellite team can be world champions, so why not? But just being focussed every race and doing the maximum, we do not share share too much our feelings with Jorge because we are two different guys. But then the results. We enjoy the same thing with the team and it's a really nice time that I'm pretty happy to be living this season."
Optimistic about Assen?
"Ducati can be fast everywhere now. We have a very good balance on the bike, and also with the eight riders on the Ducatis, we have so many references in case we are getting a bit lost. So the victory of Pecco last year, and the second position of Bezzecchi gives us this trust that Ducati can work well here. So yeah, we'll try to find the good line to be able to repeat another podium, but as I say we always start from Friday. This qualifying on Saturday is always very high pressure to be on the first two rows, and then when you can control this pressure and get a good qualifying it opens your weekend much better for the Sprint and for the long race on Sunday."
Can the shoey return?
JACK MILLER: "We'll try our best. Every time you drive into this joint you always get that feeling I guess. Different times for sure back then but no it's nice to be back here, I feel pretty good towards the weekend, another new track for us but the bike is working really well a the moment. We have a couple of things to iron out, but we're getting there. Quite confident, the bike is very nimble and around here that's what you need, a nice stable bike but something that is easy to change direction at high speed and I feel the KTM has that in it so looking forward to spinning the first laps around here."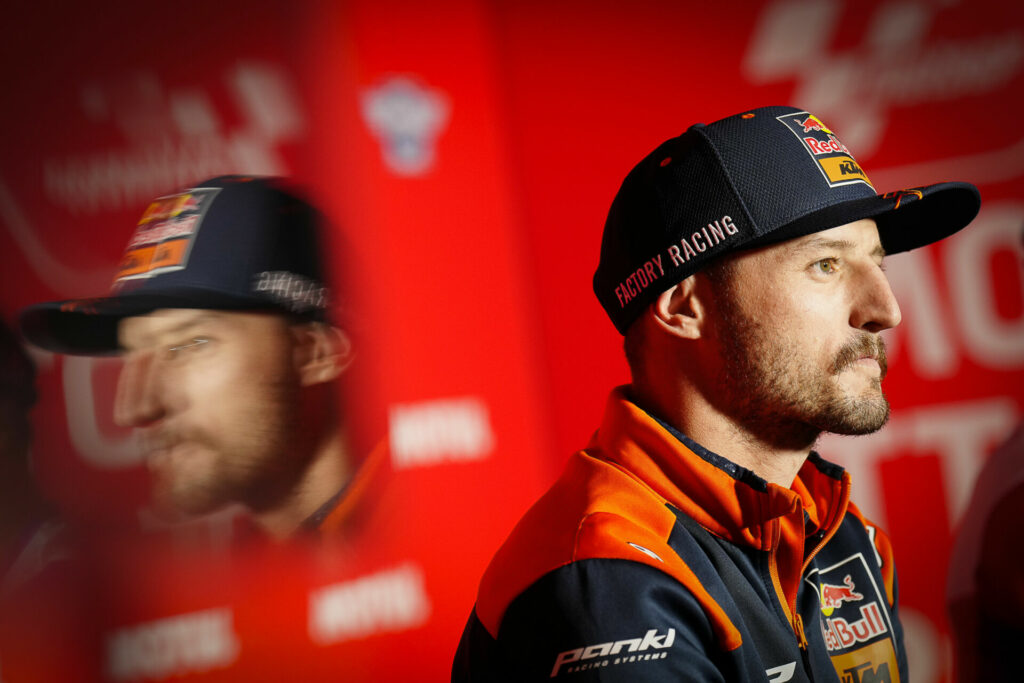 Does the experience of last two races put you in a better position?
"The high-speed corners in Mugello was where I was struggling with in, Arabbiata 2, and again at the weekend it was obvious where my weak point was at the Sachsenring, 9, 10, 11, going down the hill. I tried a lot of different things during the race in terms of my riding style just to try and compensate for what I was having through those corners. Wasn't able to find what I wanted but we went back to the drawing board and I think we've got a direction to go in terms of set up and geometry to help give me more stability in the fast corners without losing too much in the slower corners."
His reaction to the reaction to his reaction:
"My reaction is it's a lot of clickbait and bullshit. The majority of people weren't there at the media debrief so they don't even know what was actually said, then you clickbaited and put on spray like this. It is what it is, this is the world we live in. At the end of the day I just want the health of the championship to better, I want guys to get on with their job and that's all it is. Like I say, a lot of people weren't there."
And on Pedro Acosta:
"We know he's ready. That interview says it all, if he thinks he's ready then that's all that matters. I like that he's young, he's confident and that's what you need to do at that age, you need to say what you think and that's what he did there. For sure I'm excited by the prospects, hopefully KTM can keep him in the family of course because we would love to have him on one of our bikes for sure."
MARC MARQUEZ: "I rode on the limit last weekend, but we have done a very good job the last three days in Madrid with my medical team and my physio team. The ankle was the biggest problem before coming here as it was swollen a lot, but they did a very good job and now I don't think it will be a big problem. My thumb is broken, but luckily it is just the end, so it won't be a problem. The rib, I have a crack in the second rib and this will be a problem because as soon as I breathe or if I push with my arm, I'll feel it…anyways let's see, we'll start with P1 and step by step."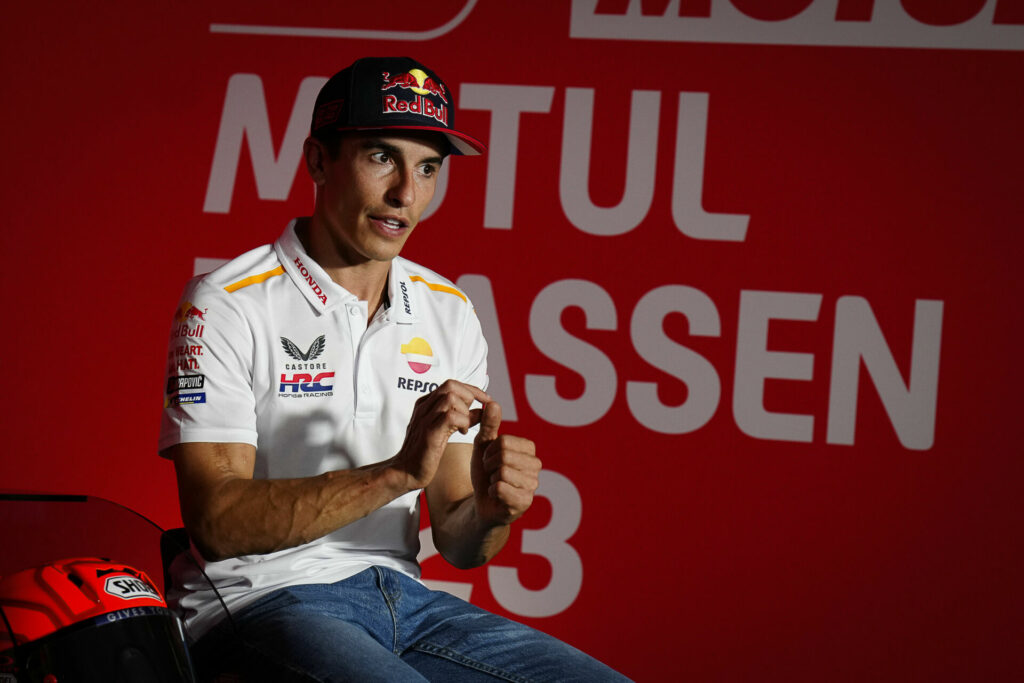 On Sachsenring drama.
"Yeah it was a tough weekend. The thing is if you are pushing and you crash, you accept it, like I did it in QP practice but for example the WUP crash…. already on Saturday I had given up a bit on the weekend and I will just keep going and in Saturday's race… I didn't push more than I felt with the bike. Then in WUP I had an unexpected crash, only on the second lap without pushing and yeah, this is the most difficult to understand."
Has his opinion changed on the future?
I didn't read a lot (the news). I am focused on myself and I have a lot work to do with the physios and in the gym these days but as you can see, if I am here with all those injuries, it's because my commitment with Honda is maximum and I want to continue working with this project in the future. Yeah, my commitment is 100% and for that reason I am here, to get information and improve the bike for the future."
Biggest injury problem?
"Let's see. In Mugello and Germany I already said about physical conditions, I felt in one of my best moments and for that reason I was able to be in the top positions by riding over the limit most of the time. Here, obviously after 5 crashes, I'm not ready to push again. It's time to step back and get some information."
Bagnaia joins Assen's TT Legends Club
Last year's Grand Prix winner, Pecco Bagnaia, is now officially part of the TT Legends Club! The reigning Champion was presented with his stone for the walk of fame by Assen mayor Marco Out and Willem Bakker from the TT Legends foundation. The stone will now take its place on the famous street in Assen, alongside his fellow legends!