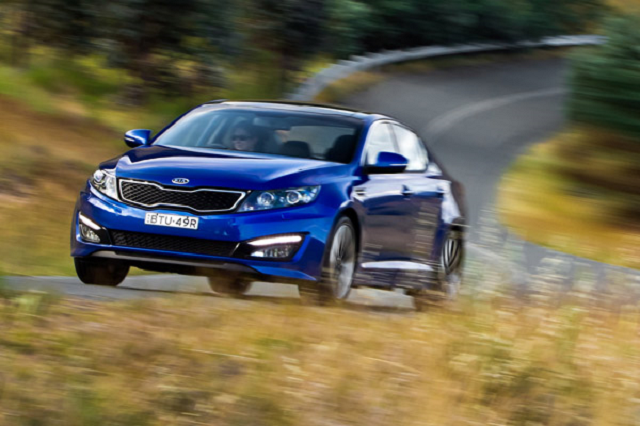 Ewan Kennedy
Kia Optima is a long-time player in Australia having been introduced here in 2001. In this Used Car Checkout review we are looking at the third generation that was launched Downunder in January 2011.
Kia Australia had been working on Australian suspension tuning for quite a few years and Optima handle handles pretty well for what it is, a family sedan. Kia's Optima is a medium-large four-door sedan with room for four adults, usually with little need to compromise on legroom. The fourth generation of November 2015 was larger and had additional space in the back.
July 2018 saw Optima receive a minor facelift, but the biggest changes were inside, with the Infotainment system being pretty quick in its reactions. Safety systems with an emphasis on trying to keep inattentive drivers out of trouble were added to the 2018 model. A deep boot can swallow plenty of luggage the depth created by the use of front-wheel drive, which comes as a pleasant surprise to those moving from one of the old-style Aussie sixes that lose space to the rear-drive system.
A handy feature is that the 60:40 rear seat backs can be dropped. The 2015 model had an even larger boot than the superseded car.
Large alloy wheels and lowish profile tyres can be harsh on some rough roads and coarse-chip surfaces may create quite a bit of tyre noise.
The lower cost models often have more sensible tyres than so are likely to be more comfortable. Try for yourself on roads you will be travelling on.
Power from most Kia Optimas comes from a 2.4-litre naturally-aspirated four-cylinder engine. Performance is good without being exciting, fine for the average driver, but if you're someone who likes to drive check it meets your standards.
An Optima GT arrived here in November 2015. It uses a 2.0-litre four-cylinder turbo- petrol engine, putting out 180 kW of power and 350 Nm of torque.
Kia Optimas sold in Australia have a six-speed automatic transmission with manual overrides and a Sport mode. There's no full-manual gearbox as Australian drivers in this class have pretty well given up on doing their own gearchanges.
Kia stopped importing the Optima in October 2020 as the model was no longer built with the steering wheel on the right-hand side.
Most Kia dealers are in the major cities, but some country cities and big towns now have Kias in their showrooms and service departments.
Servicing costs are about average this class and we have heard of no real complaints about availability and pricing of spare parts.
If shopping around for insurance make sure the offerings are exactly the same from company to company. Keep in mind that it's smart to have a long history with one company if you do have a crash as they may be kind and not increase your premiums overmuch next time.
WHAT TO LOOK FOR
Quality control problems gave Kia some poor reports in the early days but Optimas being reviewed here are much better. It still makes sense to have a professional look over it before you decide to out one.
Gear changes should be all but impossible to feel unless the Optima is being driven hard. Slurred changes may indicate a problem – which is another good reason for a professional inspection.
Take it for a drive on a rough road and listen for squeaks and rattles.
Look at the condition of the interior for signs of sun fading on the exposed areas. Also, for cracks and damage, particularly in the back seats, due to rough treatment by bored kids.
Similarly, check out the condition of the boot in case things have been roughly shoved in and / or the car has been thumped around bends.
HOW MUCH?
Expect to pay from $7000 to $12,000 for a 2012 Kia Optima Si; $9000 to $14,000 for a 2013 Platinum; $11,000 to $17,000 for a 2015 SLi or a 2014 Platinum, $14,000 to $20,000 for a 2018 Si; $18,000 to $26,000 for a 2019 Si; and $22,000 to $31,000 for a 2019 GT Nav.
CAR BUYING TIP
Keep an eye on prices being asked for used cars, these can vary quite a lot as some dealers may be overstocked and want to get rid of them quickly.
RECALLS: To browse recalls on all vehicles go to the ACCC at: www.productsafety.gov.au/products/transport/cars/.