Anything can happen with improv. One minute you're hosting an interview and the next, you're breaking up with your boyfriend Joe because his Rottweiler ate your daughter.
That's the sort of chaos and hilarity that's sure to ensue on Thursday, June 29th when klusterfork entertainment brings a star-studded cast to Market Hall Performing Arts Centre in downtown Peterborough for an evening of improv comedy.
"School's Out!" will see klusterfork co-founder Linda Kash welcome comedy duo Naomi Snieckus and Matt Baram back to Peterborough for the first in years. The couple first met while working at Second City Toronto before starting not-for-profit theatre company The National Theatre of the World. They've since spent more than 10 years doing improvised shows through their company and have travelled extensively for international festivals.
Advertisement – story continues below
Also joining the line-up are performers local audiences will be familiar with from klusterfork's "Impros vs Joes" series at the Gordon Best Theatre, including Janet Van De Graaff, Mark Rostrup, and Kerry Griffin (who also appeared in "April Fool's Gold," klusterfork's improv comedy show at the Market Hall last spring).
A portion of the ticket proceeds from "School's Out!" will go to the Canadian Mental Health Association Haliburton, Kawartha, Pine Ridge's Change the Cycle campaign to raise funds for its Garden Homes project, which aims to will provide affordable small homes for vulnerable people at risk of homelessness. On June 24, the organization is hosting a cycling fundraising event beginning in Nicholls Oval and proceeding along the Rotary Trail.
Advance general admission tickets to the June 29th "School's Out!" show at 8 p.m. cost $30, with assigned cabaret table seats going for $40, available in person at the Market Hall box office at 140 Charlotte Street from 12 to 5 p.m. Monday to Friday or online anytime at tickets.markethall.org. Tickets can also be purchased at the door for $35.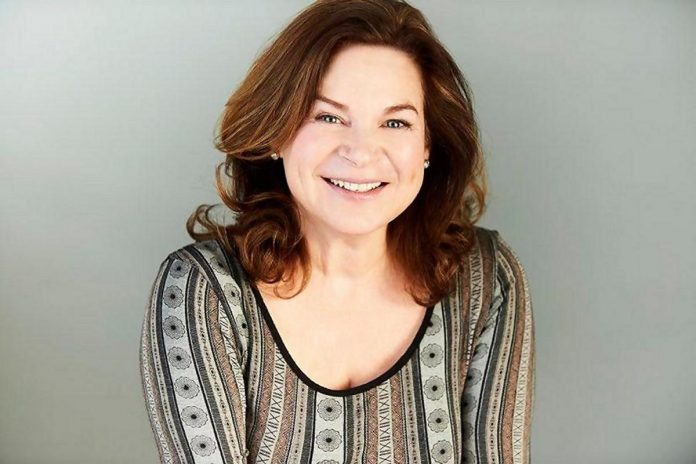 Like klusterfork's previous Market Hall shows, including last year's "April Fool's Gold" and 2020's "It's Winter! Still," this year's production is a celebration of a time of year.
"June always felt like the beginning of summer to me," Linda Kash tells kawarthaNOW during an interview where she was joined by Matt Baram and Naomi Snieckus. "All of our classes have stopped, so School's Out! just feels like a celebration of a few amazing semesters at klusterfork."
"But also parents and people are done with the routine of school, and it's time to have a glass of wine and laugh and just celebrate the beginning of summer break."
Advertisement – story continues below
Tweet this quote
Kash, who just finished a production of Casey and Diana in Stratford, co-founded klusterfork alongside Pat Maitland and Ian Burns in 2019. In addition to live performances, klusterfork produces entertainment industry workshops led by other Second City alumni and local comedians.
One such instructor and "School's Out!" performer, Janet Van De Graaf will be playing bass beside Blair Packham (lead vocalist and guitarist of 1980s Toronto rock band The Jitters) as he makes his klusterfork debut with a special half-time show. Peterborough musician Danny Bronson will provide the improvised score for the evening.
Kash explains that "School's Out!" will kick off with some warm-up games to "demystify the audience," before heading into long-form improv for the second half of the show.
"It sort of makes them feel at ease, while giving them a taste of what it is like to think on your feet so that, when they see the long form, they're like 'oh my God, how do they do that?'"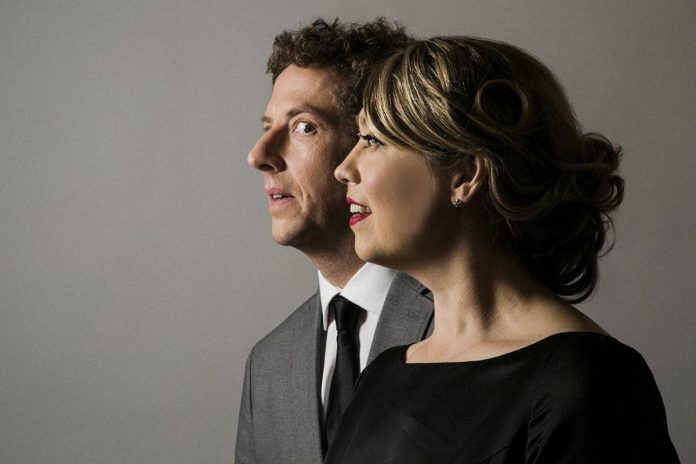 An example Kash provides is the word-by-word game, wherein each participant says one word, building on the last, until a story is created. Anything can happen — like losing both your daughter and your boyfriend because of his man-eating Rottweiler … apparently.
For his part, Matt Baram says these games not only help the audience understand the spontaneity of improv, but they symbolize how the performers must work together to make engaging comedy.
"It shows that spontaneity can happen with togetherness, and we call that 'Bringing a brick, Not a cathedral.'"
Advertisement – story continues below
Baram explains that improv performers must bring only a piece of the comedy and trust their fellow performers will feed off of it. "You don't have to carry the whole story by yourself."
Kash adds that a main rule to think about when performing improv is that "improvisers don't lie."
"Everything you say to another character is the truth," she explains. "I can't block your lie because if you say there is a unicorn flying around, then that's the truth. The best improv allows for the truth to be told, however crazy the logic is. So every offer is welcome, and that just makes for considerate improv."
After the warm-up comes the main act. During the long-form feature, the performers will improvise storytelling based on pieces of information provided by the audience. Audience members will be rolling in hysterics, as nobody can really predict the sort of antics that will ensue.
The last time Baram and Snieckus performed in Peterborough was at a fundraiser in honour of Kash's late husband Paul O'Sullivan, a highly respected and accomplished actor and improv performer. In 2009, O'Sullivan and Kash founded the Peterborough Academy of Performing Arts, where Kash continues to teach young children the art of improv.
Though Baram and Snieckus often frequent their cottage in Apsley, the Toronto-based duo has never performed at the Peterborough's Market Hall. Kash assures them Peterborough has a "great" and "comfortable" audience for improv.
"Anything can work if it's a supportive environment, and if (audience members) know their job is to not only support but to engage and to give good, positive suggestions," Baram notes.
Advertisement – story continues below
Kash adds that an ability to adapt to the audience is the beauty of improv.
"It's different from a play or stand-up because if (we) read the audience and sense they are smarter than we thought — or maybe they're here because they want to talk about racy things, or they're political — then we can change the show and tailor it to them. For a play, you've already set your course — you have to say the lines and follow the material — but we're adaptable."
Naomi Snieckus, in comedic style, compares improv to running a buffet.
"If we gave you a buffet of different food and notice you really like Szechuan chicken, we can serve that up," she says. "We can get some Szechuan going because we know you like that. And if you say 'I'm not keen on the bean sprout' then, okay, let's not do any more bean sprout tonight because she's not into it."
"We will do whatever you want," adds Kash. "We will serve up whatever you want, because maybe we've never tried that and we're all really greedy for that laughter."
Snieckus agrees entirely.
"I feel like the laughter that brings us together is like my religion," she says, adding she wants to share her religion.
For more information about klusterfork, visit www.klusterfork.com or follow them on Instagram and Facebook.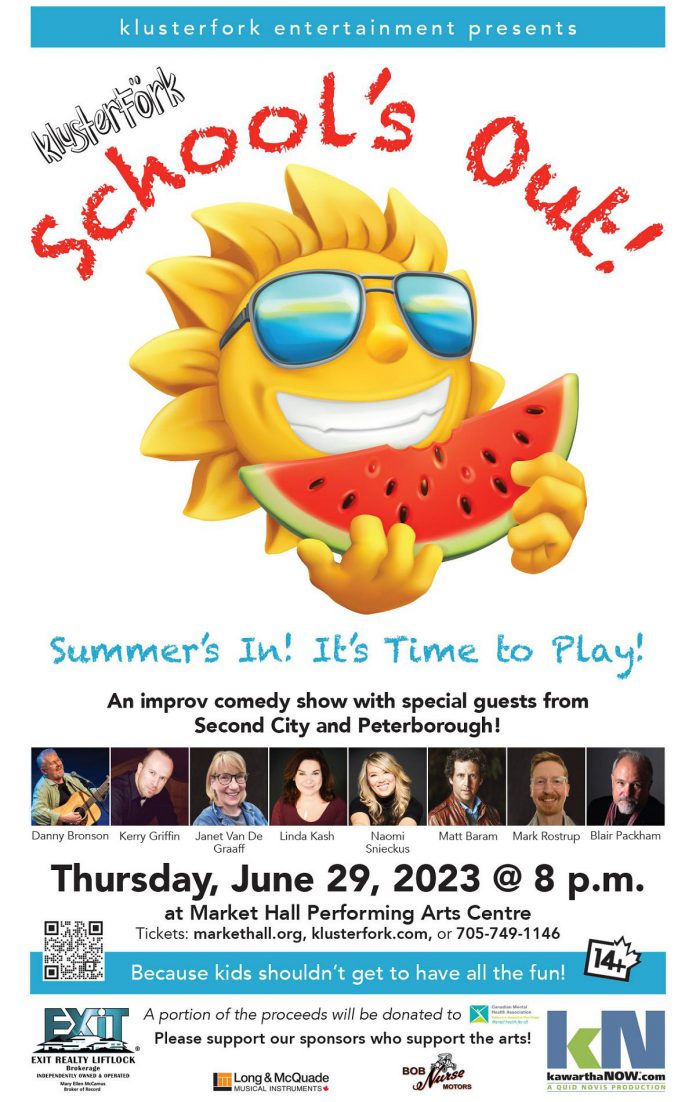 kawarthaNOW is proud to be a media sponsor of klusterfork entertainment's "School's Out!".