Retired Wallabies rugby player Mark Bell sold his three bedroom family home of 25 years for $3.66 million at auction on Saturday.
The house at 27 Delange Road, Putney was snapped up by a downsizing local family who enjoys entertaining, so the separate entertaining pavilion – which comes with plunge pool, indoor/outdoor living, and bar – was a major draw card.
The auction drew a strong crowd from the rugby community and from locals. The vendor's son, second-generation Wallaby player Angus Bell, was there on the day.
Listing: see more images of former Wallaby Mark Bell's sold property here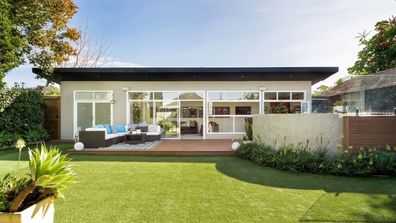 Many stopped to admire the sporting memorabilia, including Bell's Wallaby jersey on display in the bar set up. It was an emotional day for the vendor as the boys had been raised there.
Six people registered and four actively bid on the house guided at $3.3 million and billed as a potential duplex site.
Bidding opened at $3 million and rose in $100,000 increments to $3.4 million. A bid of $50,000 and a series of $100,000 and $50,000 offers took it to the $3.6 million reserve, then it rose in smaller increments to $3.66 million.
Auctioneer Damien O'Cooley said it was an entertaining auction.
"There were quite a few laughs in the crowd. It was a really lovely home with beautiful presentation," he said.
READ MORE: Buyer does a deal on $50,000 "shell" in outback Broken Hill
It was one of 424 homes scheduled to go under the hammer in Sydney on the weekend. By evening, Domain Group recorded a preliminary auction clearance rate of 66.4 per cent from 274 reported results, while 52 auctions were withdrawn. Withdrawn auctions are counted as unsold properties when calculating the clearance rate.
Selling agent Stephanie O'Sullivan from The Agency Hunters Hill said the area is going through gentrification.
"[It's] a great property to redevelop, because it had measurements for a duplex. So it attracted generational living, developers and young families."
O'Sullivan said the purchaser will live in the home as is, with plans to subdivide it in the next five years.
The property last traded for $422,000 in 1997.
This article was originally published in The Sydney Morning Herald